"This book does what it says on the cover. This is a must!"
Hal Elrod
International keynote speaker and best-selling author of The Miracle Morning and The Miracle Equation
The Bold Path to Extraordinary Results
the How!
A systematic approach helping you get out of your own way
while taking into account the various challenges that
arise depending on where you are on your goal journey.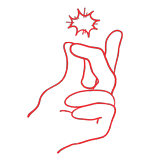 Each of the wires covers the STRATEGY,
describing how to apply it as the solution
to the challenge that you are facing.
As well as the SCIENCE,
that underpins it – provided in
a non-academic and digestible way.
And to deepen your learning
and your experience, the STORY:
connecting and engaging with your brain.
Plus, this isn't just about reading…
This is about an immersive learning experience.
The Multisensory Learning BOOSTS are an integral
part of the solution as they intensify your experience
 and help you retain the information better.
Foreword excerpt
and Endorsements
"

This is 

what makes this book
game-

changing. 

Frederique
provides you 

with 

the keys 

to
your mind and your brain."
"This is authentic and powerful teaching from one of today's great thinkers and leaders, guaranteed to help you learn, think and lead – whether leading yourself or others within your organization. (…) Regardless of where you are now, regardless of your personal fears, regardless of any internal, mind-based limitations you feel you have, you can actually change your life for the better. (…) The framework for success you are about to learn is fully backed up by science." 
Bob Burg, Bestselling co-author of The Go-Giver 
"Lead Beyond The Edge is a must-read book for anyone who wants to succeed. As you read this book, you will find Frederique there with you, authentically, strategically and scientifically guiding you through every step of your journey. Her genuine passion and her expertise shine through as she inspires and empowers you to build success in your own life and in your organization. While the research is impressive and uniquely presented, there is something captivating about how she manages to magically weave her personal stories into the message. What a magnificent book."
Sean Gallagher, Successful Entrepreneur, Business Coach, Bestselling author of Secrets to Success and former Investor on Dragons' Den TV Show (Shark Tank in the US)
"Rarely does a book come along that actually addresses ALL the areas I think are critical for change, let alone transformation.
This book gives you the actual path to actual change — and lets you keep the change!"
Amanda Gore, Award-winning keynote speaker, Bestselling author in the fields of Joy, Resilience and Leadership, CEO of The Joy Project
"If you'd like to know the 'why behind the why' on achievement, then you will greatly enjoy Lead Beyond The Edge to take your life further than you ever dreamed possible. This book is the most cerebral technical explanation and application of goal-setting I've ever read. Frederique makes it both interesting and informative. Buy this book and lead yourself to extraordinary results!"
Tom Ziglar, Author and proud son of Zig Ziglar
"Pay attention to the detailed framework and systematic approach of this book filled with strategies, science, and stories. Enjoy the design and delivery as Frederique becomes your sherpa guiding your journey as you commit to get out of your comfort zone and achieve extraordinary results in your personal and professional life."
Neen James, Attention Expert, Keynote Speaker and Author of Attention Pays
"Lead Beyond The Edge is one of the few books out there that makes the science of how we think and act easy to understand and practical to implement. Frederique offers you a clear guide as to how to apply insights from psychology and neuroscience to change your life. It is very well researched and offers a very clear roadmap to success. You will find it immensely useful."
Owen Fitzpatrick, Psychologist and Creator of the Changing Minds Podcast
"Winning is a state of mind. It is clear that Frederique has not only your mind in mind but also your brain and heart. The book has practical and memorable scientific content, which helps you understand and learn how to control specific aspects of your mind. Her strategies are written to guide you through facing your challenges and help you win in life."  
Paul Boross, The Pitch Doctor, Keynote speaker, Bestselling author, Communication expert, Sky TV's School Of Hard Knocks Team Psychologist
"This book does what it says on the cover. Thanks to Lead Beyond The Edge, you really connect with Frederique's mission to help people, one brain at a time AND you accomplish your own extraordinary. She lives her extraordinary, and she shows you how you can too: this book shows you the way, step by step. This is a must!"
Hal Elrod
International keynote speaker and best-selling author of The Miracle Morning and The Miracle Equation
"Change happens. Things and people change. They always have and always will. Change is what drives life, and Lead Beyond The Edge is an easy-to-read book that helps you embrace change. Frederique's unique experiential approach successfully nudges us gently out of our comfort zone and her subtle scientific strategies for the mind accompany us along the bold path that leads to the edge and beyond. This is a must-read for any leader, for anyone, who is looking to create sustained change at work and at home."
Elmar Mock, Serial inventor and industrial designer, inc. the SWATCH watch, Founder of Creaholic
"No surprise that Frederique has created such a well thought-out, compelling and potent book: she has made it her life's mission to help others ignite their transformational possibilities and achieve goals through shrewd strategies. The clever imagery of Circuits and Wires acts as a clear roadmap, providing the reader with artful moments of science, inspiration and practical solutions. Frederique has combined all her knowledge, skills and personal triumphs into a fascinating journey of discovery and success. Over 20 years of insights condensed into one book so anyone can apply positive psychology, neuroscience and behavioural change to create their own epic story of achievement, and lead beyond the edge."
Poll Moussoulides, Vocal Communications and Personal Performance Specialist, Director at Voice Matters International
"Frederique Murphy has written a must-read book for anyone looking to be inspired and equipped to achieve success. Her framework is a step-by-step guide with actionable tools rooted in neuroscience. Frederique's writing style is charismatic and engaging which can often be hard to accomplish when marrying science and inspiration. I highly encourage anyone looking to accomplish personal and career goals to read this book."
Lori Pugh Marcum, Head of Meeting Innovation, Meeting Professionals International  
Embark on the bold path to extraordinary results as you learn
how to u

se the power of your mind to rewire your brain for success!!!
Frederique loves what she does and is grateful and thrilled to work with amazing organizations and associations around the globe,
on speaking, training and consulting engagements. Here are a few of the brands Frederique has worked with,
inspiring and equipping their leaders to use the power of their minds to rewire their brains, and make change happen.
Captures the science and the energy of change
"I'm always interested in how the body works, and Frederique brings to life what's happening in the brain. By sharing personal stories and the science, she shares powerful ways to shape your life and transform it. It's so much more than a book to be read, Lead Beyond the Edge is a well thought out framework with so many actionable tools that you can apply to anything you want to be successful in achieving. The technical info helps you better understand why you're doing it, not just because someone suggests it as a good idea."
Demystify Your Brain & Rewire Your Self-Talk for Success!

"The author has created a clear path with distinct and do-able steps—that if practiced over time—will support people to achieve their goals and dreams. Her attitude is extremely educational, encouraging, and enthusiastic!  Brain research with its various buzzwords, e.g., "neuroplasticity" is currently all the rage. But how do we actually use this new research to improve our everyday lives?  In this book, the author demystifies how to work with your brain—step-by-step for positive changes and successful results!"
Personal neuroscience of change.
"The author shows honesty and vulnerability in sharing her own doubts and fears and how she has moved from fear, to growing outside her comfort zone and into the unknown by activating 'circuits' in her brain. She uses analogies well to explain the neuroscience of these circuits and offers multi sensory exercises to help get the idea."
The Book
Order from any good bookstore or online book retailer, and get your copy shipped to you.
Th
e Book & Bonuses
Order from Frederique directly, and get your copy shipped, anywhere in the world. 
A physical copy of the 'Lead Beyond The Edge' book.
PLUS, gain access to these exclusive bonuses when you order here supporting the publisher & Frederique:
Your copy will be personally signed and personalized by Frederique.
Your exclusive bonus, worth $297, free for you when you order: 'Jump Start The Year' audio training.
Read more
The Jump Start The Year audio training is a masterclass taught by Frederique to help you experience your very own jump start, laying out some strong foundations for the year ahead — or in fact anytime you want to jump start things around! Together, we will clarify, and subsequently strategize and plan, what it is you actually want to accomplish in 2021 and beyond. Especially created to support you as you start off strong, this mp3 file will be delivered to you directly in your inbox, and will be the perfect way to start leading beyond the edge towards your extraordinary results! 
The Book, Bonuses & Beyond
Order from Frederique directly, and get your copy shipped, anywhere in the world.
EVERYTHING in The Book & Bonuses package!!!
PLUS Beyond, where you get a series of items, especially hand-picked by Frederique, to help you further engage your brain as you read the book and lead towards:
A physical copy of the limited edition 'Lead Beyond The Edge' notebook, and its pencil.
=> For you to write and/or sketch your thoughts and ideas (you will see in the book how key hand-writing is: your brain will love you and your productivity will peak!)
A physical and laminated A5 poster of the illustrated Framework.
=> For you to refer to as you strengthen your newly built neural pathways.
A physical and laminated A5 poster of the Manifesto.
=> To act as a learning visual trigger, jolt your memory and help you fire it all up.
My gift to you, a special bookmark (not a paper one 😉 ) to mark your progress as you lead beyond the edge.
Aspiring to more? 
When you invest in your whole team, your whole department, your whole organization, you tap into the power of your leaders' minds to rewire their brains for success at a whole new level: investing inwards always ripples to outwards results; think of the impact with your customers, your community, and your whole organization!


For multiple orders (10, 100, 1,000, 10,000 and everything in between), please email us here now with your bulk order enquiry, so you can receive a custom quote with bulk discount and exact shipping costs.
For bespoke packages, where you hire Frederique as your keynote speaker (online or live in person) AND also get to add the perfect companion to her keynote, supporting you even further by having each of your event attendees receive the book too, please email us here now with your bespoke package enquiry. 
Write the book proposal, Submit it to publishers, Sign the contract with a publishing house (Practical Inspiration Publishing), Celebrate milestone, Map out the entire book post-it note by post-it note, Write the beta draft, Celebrate milestone, Work with the designer on the book cover, Receive final book spread design (front, back and spine), Celebrate milestone, Partner with the illustrator on the book framework, Receive final illustrations design, Celebrate milestone, Submit beta draft to development editor and beta readers, Review and incorporate their feedback, Finalize the book, Deliver the final manuscript to the publisher, Celebrate milestone!
THE JOURNEY BEGINS! (100%)
I'm doing it as the book goes through the various production stages: Copy-editing, Celebrate milestone, Create the book website, Celebrate milestone, Work with the typesetter on the book inside layout, Announce the BIG news on social media, Kick-off the Pre-Launch activities, Celebrate milestone, Proof-reading, First page proofs, Revised page proofs, Celebrate milestone, Print-ready file, Celebrate milestone!
The journey continues… (100%)
Printing, Pinch-me moment, Officially become a published author, Celebrate milestone, Receive advance copies, Celebrate milestone, Sign, Personalize, Package with bonuses and surprise gifts the pre-order books orders received via me and Mail them to you (est. from February, 27th, 2021 a full month before the official publication date!), Official Publication Date (March 30th, 2021) Launch, Celebrate milestone, Make a difference in the world and to YOU, helping you use the power of your mind to rewire your brain for success!!!
Excitement is in the air! (100%)
'Lead Beyond The Edge' officially hits the shelves in…
But for you, your pre-order copy(ies) ships in…